TM-990 walkie talkie 5 Versions for different demands
This is a powerful multi-purpose walkie talkie for PoC, analog or DMR. It can also work as a gateway or repeater. There are many possibilities waiting for you to discover. It can work for solutions like: transportation, logistics, Bank control center, airport, railway station control center, car racing, self-driving travelling, and so on.
It has five different versions:
TM-990 Normal
TM-990 BT version
TM-991 economic version
TM-990D PoC + Analog dual modes version
TM-990DD PoC+ DMR dual modes version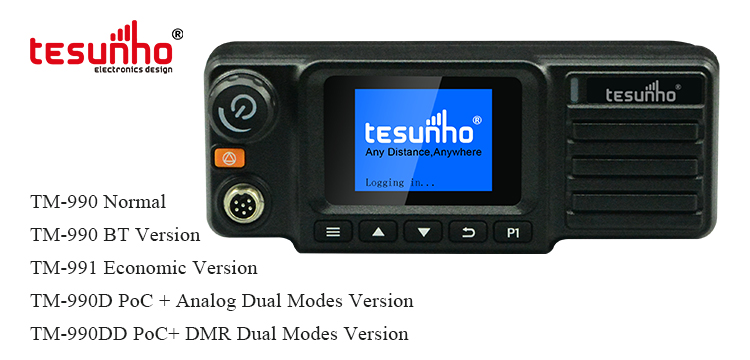 These five versions are aiming to figure out different demand. All of them support dual SIM cards.
TM-990 Normal can support secondary development to link with all kinds of devices: Motorola/Hytera/Kenwood/ICOM/Tait/Yaesu walkie talkies; GPS trackers, Video devices, and other monitor devices which is for anti-theft or states monitoring.
TM-990 BT version is a upgrading on Normal version. BT microphone TH-P1 can work with it to realize handsfree, especially for worker drivers and racing drivers. Enhancing user safty is our goal.
TM-991 is a basic, slim and slight version, easy installation and simple functions for communication with dual SIM cards. Although it is basic, power protection and thunderstrike protection to compatible with 9-24V vehicles are inherited. All five versions carry this main feature.
TM-990D and TM-990DD are bridges for analog walkie talkie and DMR walkie talkie. They inherited the secondary development function from TM-990, too.
Please contact with us to get more details. We provide hi-resolution pictures, training videos, CE FCC certificates and technical support to fulfill your success.